Last Updated on June 28, 2023 by Pittalks
Today, children spend most of their time in front of screens. Whether it's playing on a gaming console or watching cartoons, parents often feel that their kids are disconnected from the real world. 
Fortunately, there are many outdoor activities that your little one and you can embark on together. Believe it or not, go-karts are one of them. 
Your first instinct: is it safe? Don't worry, as we've compiled a list of the 5 best go-karts for kids that are extremely safe and fun to drive around in. 
Let's get started!
---
Radio Flyer Ultimate Go-Kart | Best go-kart for kids below 5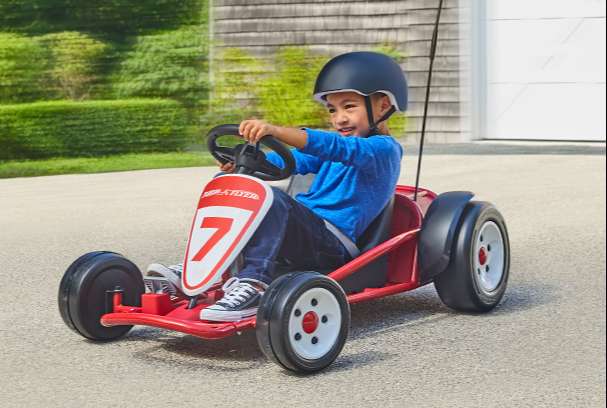 | | |
| --- | --- |
| Top speed | 8 mph |
| Battery | 24V |
| Battery running time | Upto 45 minutes |
| Battery charging time | 8 hours |
| Safety | Parent controlled speed lock, seat belt |
| Weight | 81 lbs |
The Radio Flyer Ultimate Go-Kart is the perfect kart for little drivers with a need for speed. It has a strong steel frame and a simple design. The kart weighs 46 lbs and looks pretty rugged. You also need to get your DIY on as there is some light assembly, such as fitting the wheels, steering, etc.
The kart can hold a maximum of 81 lbs, making it perfect for kids under 5. As a parent, the main worry is that your child will outgrow their karts quickly. But with this, you get adjustable seats catering to fast-growing kids.
This go-kart is powered by a 24V battery pack and can go up to 8 mph. It has a three-speed setting; 2.5, 5, and 8 mph. With the provided 1 amp charger, you can juice up this bad boy in under 8 hours and drive for 45 minutes on a single charge (smooth surface.)
Fitted with large wheels in the rear, drifting in the Flyer Ultimate is a breeze. It can drive on different types of terrain, expanding the racetrack boundaries. It also has great safety features, such as a lap belt and an engine that stops immediately once you lift your foot off the accelerator.
Surprisingly, there is not much that I don't like about this kart. Yes, the charger is a little weak, and it takes too long to charge the kart (but slow charging will maintain the battery better.) Other than that, it's the perfect toy that'll turn your little ones into drivers.
Anyway, the go kart was a really good investment for my kids during the pandemic. We did all sorts of fun things with the go kart like clamping a red Ikea RAMSÖ parasol to one side to give it a Mario Kart look. It was functional and never flew off while driving.

https://forums.redflagdeals.com/amazon-ca-radio-flyer-ultimate-go-kart-12-km-h-284-82-amazon-ca-deal-dead-2530249/
---
Coleman CK100-S Go Kart | Best go-kart for kids above 8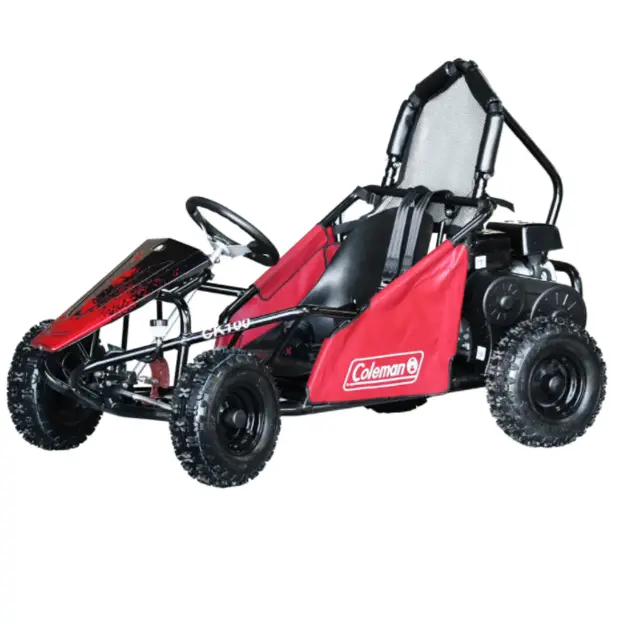 | | |
| --- | --- |
| Top speed | 15 mph |
| Engine | 4 stroke 1 cylinder 98 cc gas-powered engine |
| Horsepower | 3.0 hp |
| Safety | Four point safety harness, killswitch |
| Weight | 146 lbs |
With the Coleman CK100-S go-kart, we're getting into a bit of advanced territory when it comes to handling the kart. The kart introduces gas and brake pedals, making it a fantastic entry-level kart for kids over 8 years of age. 
From the design aspect, the kart is sleek and looks sporty. With heavy-duty tubular construction, you're not only getting style but also great durability. 
This is an off-road go-kart equipped with a 98-cc gas-powered engine capable of producing 3.0 hp. The kart can max out at 15 mph, which is enough to give your child the ride of their lifetime. On rugged terrain, the kart smooths out bumps and uneven surfaces with low-pressure tires. The kart is considerably heavy. Weighing 146 lbs, moving this thing might be a challenge. 
Safety can be a huge concern for many parents, and the Coleman CK100-S does not disappoint. Although there are sidebars, a head bar, and mesh netting, the bolstered seat is the star here. It is fitted with a four-point seat belt that securely tucks your kid in the seat while providing comfort. There is even a switch to instantly turn off power in emergency situations. 
The Coleman CK100-S is a fantastic off-road go-kart that ticks all the boxes. However, due to the small size of the kart, kids 6 ft tall might feel uncomfortable behind the wheel. For those with tall genes in their family, you may want to consider something larger. The KT196 is a great option to consider in this case.
---
Razor Dune Buggy – Great option for 5 – 6 year olds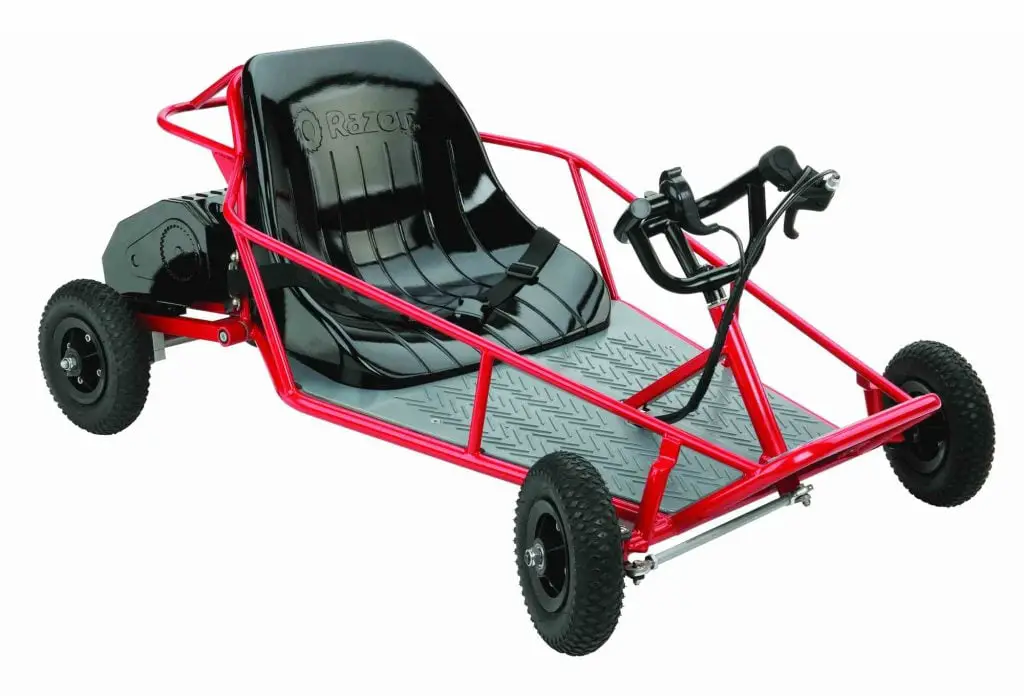 | | |
| --- | --- |
| Top speed | 9 mph |
| Engine | 350 watt electric motor |
| Battery | 24V |
| Battery running time | Upto 40 minutes |
| Battery charging time | 5 hours |
| Safety | Safety belt, flag,  |
| Weight | 65 lbs |
The Razor Dune Buggy is a solid option for any kid getting to know 4-wheel vehicles. Equipped with a powerful 350-watt electric motor, the kart is capable of reaching speeds of 9 mph. The kart is fast enough for any young daredevil to enjoy, but not so fast to put them in any danger.
With a simple and practical design, the Razor Dune Buggy comes with a rear suspension system to smooth out the bumps during a ride. The kart is very low to the ground, offering stability and reducing the risk of tipping over, something many parents are always worried about.
The hand throttle and brake controls replace the typical gas and brake pedals. Most kids at this age know how to ride a bicycle, and providing them with that design makes it easier to operate. The seat supports kids weighing up to 120 lbs. Even some older kids can also have a go at it!
So, is it worth getting one? Well, the Razor Dune Buggy is a fantastic bang for the buck go-kart I have come across. The design is simple but practical. A durable steel frame and other safety features ensure that your little one is safe at all times. 
It's the perfect gift to get your kid outdoors rather than playing video games.
Charlie got a new Razor Dune Buggy. It's a very basic, low-cost but well-reviewed kids kart. 24V motor… hand controls for throttle and brake, and not many frills.
We both like the idea that it will serve as a blank canvas for our own design and performance aesthetic, and it will give us many opportunities to make changes, observe the results, and get some quality "garage time" together in the process.
Charlie has already started on some "artist renderings" for future changes

https://ck5.com/forums/threads/2017-razor-dune-buggy-electric-go-kart-build.330248/
---
Segway Ninebot Electric Go Kart Pro | If money is no object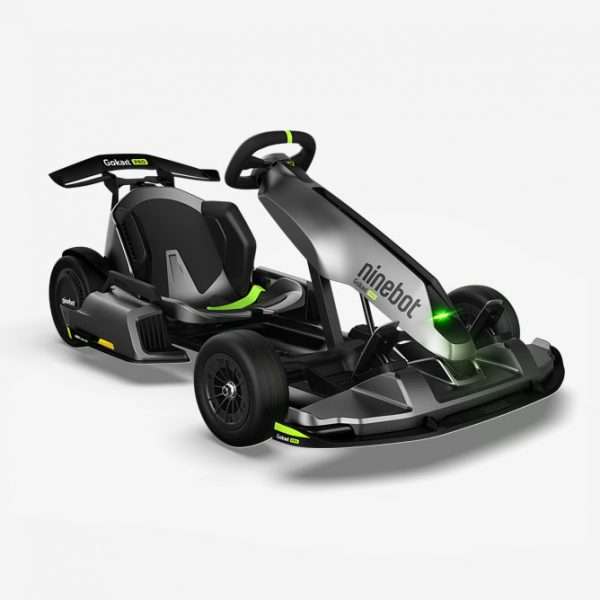 | | |
| --- | --- |
| Top speed | 23 mph |
| Engine | 4,800 watt electric motor |
| Battery | 24V |
| Battery running time | Upto 2 hours 30 minutes |
| Battery charging time | 4 hours |
| Safety | Triple anti-collision protection, dual com. technology, front LED light |
| Weight | 112.9 lbs |
We all get to fulfill our dreams through our kids. Things we didn't have, we make sure we get for our little ones. And if money is not a problem, the Segway Ninebot electric go-kart is the perfect gift.
In terms of design, this is the most exotic-looking go-kart on the list. The aerodynamic rear wing looks absolutely stunning. With racing-inspired seats and a side bolster to keep you snug in place, the Segway Ninebot is a beast. 
The go-kart's chassis is made from high-strength steel and is capable of a payload of 220 lbs. With the go-kart's length easily adjustable, even I can fit into it comfortably and whizz around a track without any problems. 
Powered by two electric motors that can send up to 4,800-watts of power to the rear wheels, this is super fast. With a max torque of 96 Nm, the acceleration is insane (0 to 12 mph in two seconds). This makes riding the Segway Ninebot feel crazy the first time you get into it. The kart can reach speeds of up to 23 mph, which is faster than any of the go-karts on our list. 
The manual handbrake combined with the special rear wheel drifting tires and drift assistant system is extremely fun to use. It allows you to drift all day long and also acts as an effective braking mechanism in emergency situations. Segway Ninebot comes with an app that allows riders to track their rides, check the battery life, change driving modes, and much more. 
Although the go-kart is recommended for ages 14 and above, there are four different modes catering to beginners and intermediates. The safety mode limits speed to 5 mph, perfect for beginners, and the race mode maxes out at 23 mph, great for young daredevils.
What I really like about the go-kart is the thought the manufacturers have put into it. For example, it's got a silent engine since it is electric, but they provide you with a Bluetooth speaker capable of producing single-cylinder, two-cylinder, V8, and V12 engine sounds, providing an immersive go-kart experience. 
What would complete the entire supercar experience is a speedometer, but driving this thing, you never really notice the need for it.
For those concerned about the speed (being slow) at their max speed it's a fair point. They don't have a particularly high top speed and if you plan on traveling in long straight lines you likely won't be impressed. BUT what makes them amazingly fun is their acceleration and cornering. It's insane! The responsiveness and G force you get in and out of corners is hard to describe.  We have a tennis court and racing them around it is insanely fun. It feels like real life Mario cart. Fast, intense. Perfect for a kid. 

https://forum.electricunicycle.org/topic/10773-new-ninebot-gokart-kit/page/3/
---
Razor Ground Force Drifter Kart | Affordable alternative option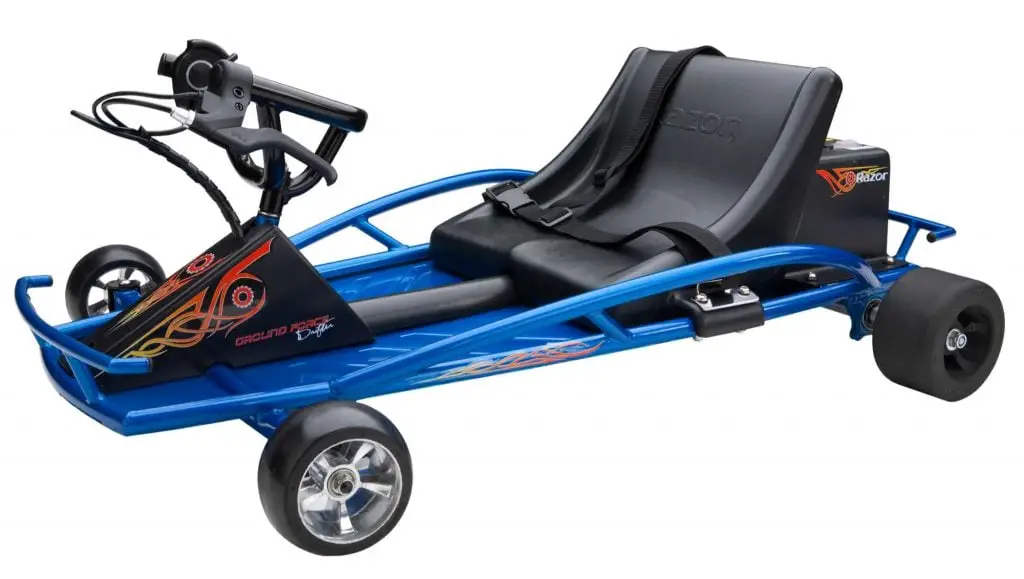 | | |
| --- | --- |
| Top speed | 12 mph |
| Engine | 250-watt electric motor |
| Battery | 24V |
| Battery running time | Upto 40 minutes |
| Battery charging time | 12 hours |
| Safety | Three-point seat belt, hand-operated brakes |
| Weight | 55 lbs |
I've gone over go-karts aimed at kids of different ages, and a go-kart for those without a budget, the Razor Ground Force Drifter is an affordable option. Unlike the Coleman or Razor Dune, which is capable of off-roading, the Razor is aimed at little drifters and is only recommended for driving on flat, even surfaces. 
Equipped with a 250-watt electric motor, it might seem underpowered, but it can easily touch speeds of 12 mph. The motor can easily be upgraded to a higher wattage for more power. Weighing just under 33 lbs and fitted with tires made from polyoxymethylene, the drifter kart drifts smoothly without any effort. The thumb trigger acceleration makes this a fantastic choice for young drivers too. 
Although the kart is great for kids, teenagers, and even young adults, unfortunately, the max load on the drifter is just about 140 lbs. The go-kart can take a painstakingly long time to charge as well. However, you can easily replace the batteries with a new pair. 
That said, the Razor Ground Force Drifter Kart is absolutely fun to drift. The steering is intuitive, the tires provide that slide, and it's very easy to execute different drifting techniques.
---
Conclusion
So, which is the best go-kart for kids? The answer to this question really depends on the age of your child.
A battery-powered kart (like Radio Flyer) is probably the best option for toddlers and very young children since it is easy to operate and doesn't require any peddling.
If you have an older child ready for more of a challenge, a gas-powered model (I do recommend the Coleman CK100-S) may be better. Whichever type of go-kart you choose, always wear safety gear and provide plenty of supervision while your child is driving.

Have fun out there!