Last Updated on June 28, 2023 by Pittalks
How fast can the KT196 go-kart go? Is it worth your money? 
These are just some of the questions you may be wondering about before purchasing this go-kart. 
In this post, we'll provide a review of the kt196 gas go-kart and answer some of those questions for you. So, if you're considering buying one of these fun machines, keep reading!
---
Specifications
Let's get the numbers out of the way, then we can get to the feel of it!
The Wheelbase
At a distance of 49.61″ or 1260 mm between the wheels, the KT196 is pretty small to toss around your local dirt track or even in your backyard if you got one big enough! 
Its short wheelbase enables it to be snappier and more responsive in handling.
Ground clearance
The combination of a short wheelbase and high ground clearance (4″) also provides a better breakover angle.
This means the kart can drive over an obstacle without getting high-centered, making it perfect for off-road.
The Weight 
It's 330 lb. or 150 kg, so it's not going to need much power to haul up a jump, and it only needs 2 healthy adults to put in the back of a semi-truck.
The Dimensions
The KT196 is at 68.11″ x 43.7″ x 47.24″ or 1730 mm x 1110 mm x 1200 mm (LxWxH). 
The Engine
A 196cc, Air-cooled, OHV, 4-stroke, 1-cylinder, making 11 Nm of torque and 6.5 Hp. 
The Gearbox
CVT transmission – a variable transmission that changes its ratios in real-time to keep the engine at peak performance for any given speed. More on that in the section below.
The Suspension 
A set of Dual a-arm adjustable shocks in the front and Dual Adjustable Shocks in the rear. The springs' stiffness is adjustable to match the rider's weight.
The Brakes 
Set of Hydraulic disk brakes. Now they aren't racing brakes by any chance, but for the weight they are working with, and at 15 miles per hour top speed, they'll do more than a terrific job!
---
Who can fit in?
The KT196 is a two-seater kart, which can hold a maximum of 400 lbs (180 kg). Even though Coleman claims that this kart is only for kids above 13,  I believe that it's actually the opposite.  I've seen many people complain about this kart being too small for their kids, when in reality, "the kids" are 5 ft or even 6 ft tall. 
For that reason, my recommendation is that if you have tall kids, this may not be the one. 
There are really no problems letting younger kids (something like 8) drive this. Just make sure to limit the speed with the throttle.
KT196 has one color as of 2023.
---
Coleman KT196 top speed
The prescribed top speed of the kart is 15 miles per hour. That said, the throttle valve is adjustable and can either be limited or opened up. In reality, if the driver is not too heavy and the throttle valve is fully opened, KT196 can reach up to 30mph. 
How can the kart be that fast? Let's dig deeper into what makes the KT196's speed!     
How good is its engine? 
The engine is a one-cylinder, 196cc little monster. Its overhead valve pushrod system design allows it to be small and compact.
It is quite responsive, especially with the unrestricted throttle adjustment. While its size might look underwhelming, it provides more than enough power to make your kids feel like they are flying!
The Overhead Valve design, also known as pushrod design, means that the camshafts that control the valves are located inside the engine block. They actuate the valves through pushrods, allowing the engine to be compact while not requiring additional cost!
What type of transmission?
A Continuously Variable Transmission (CVT) utilizes real-time adjustment to the gearing to keep the engine at optimal performance. The flexibility of a CVT with suitable control may allow the engine to operate at a constant RPM while the vehicle moves at varying speeds.
By having a CVT, the KT196 go-kart can increase fuel efficiency and allow smooth acceleration without the need to shift gears. That's much easier for your kids to start learning to drive.
What kind of oil and fuel does it use?
The fuel capacity is 0.95 gal. or 3.6 liters of 90+ octane gas
The oil capacity is 0.63 qt. Or .6 liter of 10W-30 oil
At first, the engine is dry, and you'll need to add some oil (and, of course, gas) before starting it. Make sure to use the suitable types of oil and do not overfill. Otherwise, the oil may spill back out.
Note: The package does not come with oil, so you have to buy it separately. 
Even though the assembly manual has a very clear picture of the oil plug, you may have trouble finding it. So here's a tip: pay close attention to the engine's side that's close to the seats; you'll find it!
---
Other components
How reliable is the brake & suspension?
The KT196 brakes work very well. They are responsive and provide good stopping power. As for the suspension, it can handle a lot of abuse. The kart can go over bumps, curbs, and even small jumps without any problems.
The suspension and brakes require inspection every month. Check the bolts, brake fluid, or any leaks here or there.
Is the frame sturdy enough?
The KT196's roll cage is much sturdier than other cheap go-karts in the market. The roll cage is made with 1.5" diameter steel tubing, while the main part of the chassis' is 2" steel tubing.
This makes the kart very stable and difficult to tip over, even when cornering at high speeds. Even if they do, the roll cage will protect your kids from injury.
Note: Kids taller than 5 feet will have their heads sticking out of the roll cage, so be careful.
How long do the tires last?
The KT196's tires are made of high-quality rubber and should last long enough with proper care.
It has tubeless tires, which means dealing with flats is much easier. Tubeless tires are considered safer than tubed tires. This is because if a tire does get a puncture, the air slowly leaks out rather than all at once.
Even if a tube tire goes flat, you can fix it easily with sealant. Make sure you have plug type patches kit when buying the kart in case of any punctures.
Note: Do not drive if the tire tread's depth is less than 4mm. Worn tires like this do not provide a good grip and increase the chance of accidents.
Another thing you need to watch out for is the air pressure. It should be between 7-9 psi. One cool trick you can do if you want to drive it on a beach. Usually, the kart does not have enough grip to handle the sand, unless you let half of the air out. This will allow the kart to "float" on top of the sand instead of sinking in.
---
How difficult to put it together?
The KT196 is meant to be built by you, but do not worry! The tools are all included in the packaging, so you wouldn't need to rush to the parts store to get yourself a wrench or ratchet.
All of the steps are clearly explained in the manual. You and your child can actually put the thing together easily in a matter of an hour or two.
The hardest part is probably the disassembly of the angle iron crate. If you're using a hand ratchet, it'll take a while. An impact driver or electric ratchet definitely will make life a lot easier.
Moreover, you can keep the angle iron material for another project. 
---
Is it easy to move it around?
No trailer is required to transport the kart!
The dimensions of KT196 allow it to be easily transported. For example, it can fit in the bed of a Ford F-150 or a Chevrolet Silverado. With its relatively light weight, it can be carried by two grown men into the truck bed with ease.
---
Can you drive it on the public road?
In that regard, it is considered a UTV. You should consult your state regarding the legality of driving off-road vehicles on the road. One of the best sites to check is: Riding an ATV/UTV on the Road? State-by-State Legal Guide – ATV MAN.
If you happen to live outside the USA, please consult your country's related transport laws.
---
How hard to maintain it?
The package includes a fully-detailed book about the car and how to operate it safely. Not just that, the maintenance schedule and required amounts of all the fluids are listed.
After 5 hours of operation, they recommend having your first oil change. Then, every 3 months or 50 hours, have another one.
Besides, you should replace the spark plug every 6 months or after 100 hours of operation.
For your kid's safety, you should regularly use a torque wrench to check the torque specs on the bolts and nuts. Make sure they are tightened to the right specs as the table below.
FASTENER
THREAD SIZE
TORQUE
(ft.lbs.) / (in.lbs.)
TORQUE
(nm)
5 mm nuts and bolts
39 – 52 in-lbs.
4.5 – 6 nm
6mm nuts and bolts
69 – 104 in-lbs.
8 – 12 nm
8mm nuts and bolts
13 – 18 ft-lbs.
18 – 25 nm
10 mm nuts and bolts
22 – 29 ft-lbs.
30 – 40 nm
12 mm nuts and bolts
36 – 43 ft-lbs.
50 – 60 nm
4 mm screws
22 – 30 in-lbs.
2.5-3.4 nm
5mm screws
30 – 43 in-lbs.
3.5 – 5 nm
6 mm hex bolts
87 – 121 in-lbs.
10 – 14 nm
8 mm hex bolts
17 – 22 ft-lbs.
24 – 30 nm
10 mm hex bolts
25 – 32 ft-lbs.
35 – 45 nm
Overall, the KT196 is not difficult to maintain. You can do all the maintenance tasks by yourself without having to take it to a mechanic, which will save you a lot of money.
---
The riding experience
The power output is adjustable with the throttle body adjustment, which is a simple screw to twist, similar to other go-karts. It allows for modulation and keeping the user in check if they are inexperienced or just very young still. 
You should expect a bumpy ride if you're going off-road, but that's all part of the fun, right? When going on paved surfaces, the kart handles very well and provides a smooth ride. However, driving a go-kart in your neighborhood can be illegal in some states, so be sure to check your local laws before taking it out on the streets.
One thing to note is that the kart is a little loud. Like, how loud? As low as your lawn mower! But this is not an electric go-kart, so it's to be expected. If you're planning on using this in your backyard for 3 hours straight, your neighbors may not be too happy about it.
---
Conclusion
In the end, KT196 is a small machine meant for fun and basics.
Its small but responsive motor, short wheelbase, and quality build. More than enough for you and your kids to have a good time at a reasonable price.
It can be a great starter to get kids to learn to drive and maintain their very first car. On the other hand, it can be a time killer for a hobbyist who wants to experience something new or reignite an old passion—all without breaking the bank.
Just make sure that your height or your kids' height is not too much for the space of the KT196. No matter what you really are after, you will find that this kart has plenty to offer!
Related articles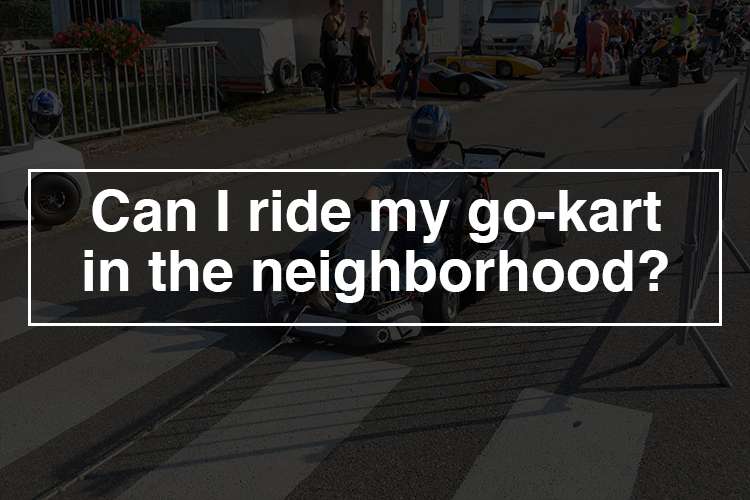 Where can I drive my go-kart legally?
If you want to drive your go-kart, you can do it in approved designated locations. Places include private property, karting tracks, designated dirt trails, …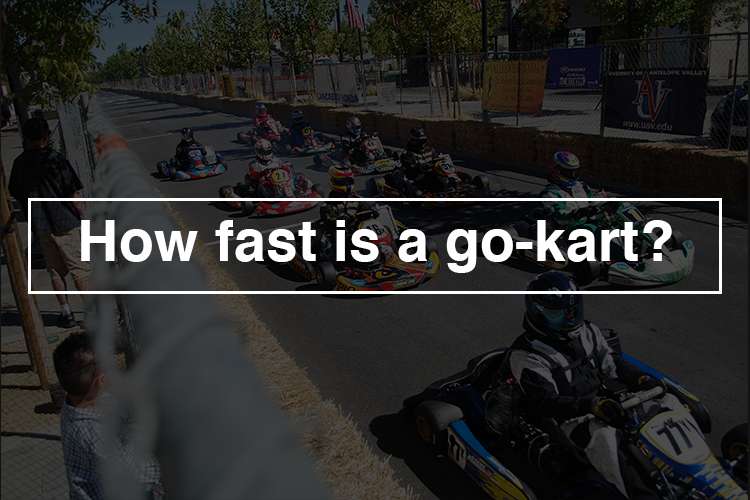 How fast do go-karts go? [Speed chart]
The answer depends on a couple of things, including engine classes and whether or not the engine is a 2-stroke or a 4-stroke. Typically, a 4-stroke 125cc go-kart …