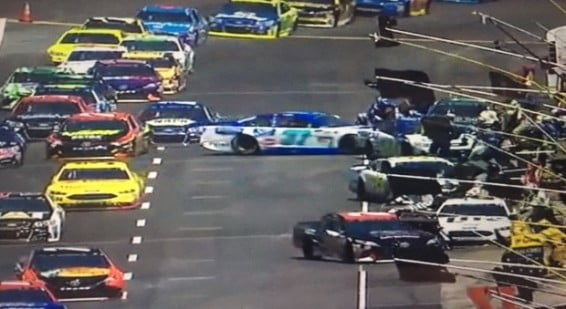 As we predicted last week, the Texas race weekend proved to have many crazy moments, unfortunately there was a very scary moment on pit road early in the cup race. Due to the newly repaved and re-configured track surface, there was a Competition Caution on lap 30 to allow the teams to change tires and look at tire wear. Pit road became very busy very quickly and that's when it got ugly for Zack Young! Zack is the Jackman for the 37 car of Chris Buescher. As Buescher started to make a left turn into his pit stall, the 77 car of Erik Jones hit Buescher in the rear and spun him just before the pit stall. We were able to catch up with Zack today and here is what he said:
"When the cars came onto pit road, we were nose to tail with the 13 car. They were in the pit stall directly in front of us so I knew there was going to be a very small gap between the cars for me to jump between. As they turned towards us, the gap got really small because the 77 car hit our car and spun us out! I jumped but got hit by the RR quarter panel which threw me a good 10 feet in the air toward pit wall! The jack got knocked out of my hands so I got up, grabbed it and started to jack up the right side of the car. That's when I realized there was a huge amount of pain in my right hand! Our crew chief Trent Owens came over the radio and told us to stop and told Chris to drive around and come back in. I sat down on pit wall and immediately there were track medical personnel there to assist me. They put me on a golf cart and took me to the Infield Care Center. Thankfully the only thing that seemed wrong was the pain in my right hand. They gave me a complete check over but really focused on the hand. They concluded that nothing was broke but they did put it in a cast and recommended I get looked at when I got home. I was able to fly home with the team and today I was looked at by some of the best orthopedic doctors in the Charlotte area. They took some x-rays and expect to give me their full evaluation tomorrow."
We are all very thankful that Zack didn't suffer any further injuries, it could have been a lot worse! With all three major racing series having a weekend off, Zack is hoping to be jacking at Bristol in two weeks. He pointed out that if something like this was going to happen, doing it the race before one of our only two off weekends of the entire season was fortunate!
We want to thank Zack for his time and everyone is wishing him a speedy recovery. If I know Mr. Young, we will see him at Bristol jacking the heck out of that 37 car!
More article about racing on Pit Talks
Related articles