Last Updated on March 30, 2022 by Pittalks
To be honest, San Diego is not a great city if you are a go-kart enthusiast.
Don't get me wrong, there are a few decent indoor go-kart tracks here. But when it comes to outdoor track, you can hardly find anything good.
In this article, I will introduce the best 2 indoor go-kart tracks in San Diego. If you want some outdoor tracks for advanced drivers, you may want to go a little further to the north. Read this article: Best go-kart tracks in LA.
Without further ado, let's get started!
---
K1 Speed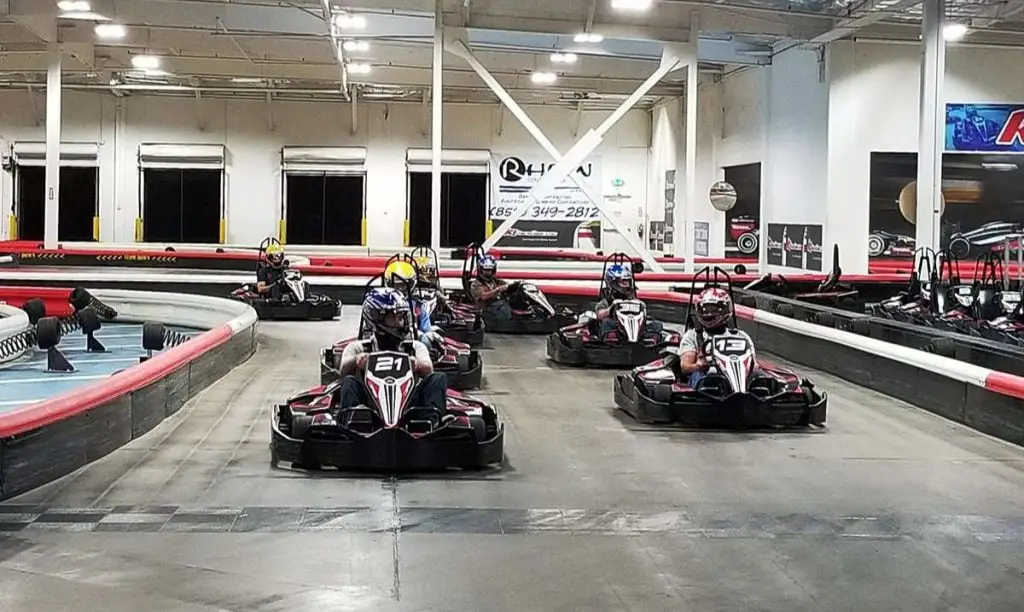 K1 Speed is one of the most popular indoor go-karting centers, not just in San Diego, in the US! They have locations all over the country, so you're probably familiar with the name.
It's located downtown, near the Gaslamp Quarter, East Village, and Petco Park. If you're looking for a convenient location and plenty of excitement, look no further! K1 Speed is the place to go.
Racing Options
The most common option is their "Arrive and Drive" package. You can come in anytime and race without having to schedule a reservation. This is great for last-minute decisions or for people who just want to race without any hassle.
If you're looking to race with friends or colleagues, they also offer group packages. These packages include exclusive use of the track during your heats.
How powerful are their go-karts?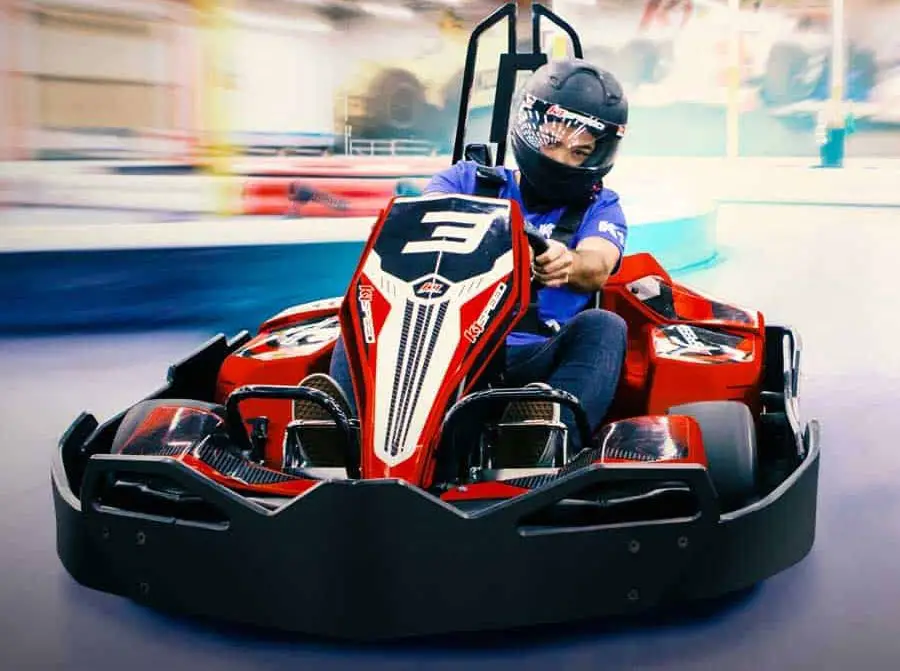 If you're looking for some advanced powerful gas-powered go-karts, this is not your place.
However, if you're just looking for a good time with your friends, their electric go-karts will do just fine.
They reach speeds up to 45mph, which is plenty fast for indoor go-karting. Another good thing about electric go-karts is acceleration. They can reach top speeds much faster than gas-powered karts.
Price
The price is a little bit on the high side, but it's truly worth it. You can expect to pay around $26 for a 10-minute race.
1 race: $28.95
2 races: $46.95
3 races: $59.95
2 race + a T-shirt + membership: $59.95
Helmet renting: $5
Should you buy the membership? If you plan to visit this place a couple more times and you don't have a helmet, then yes. You will save a lot of money in the long run. The membership allows you to use their helmets for free. In addition, you'll get one free race on your birthday. But I would buy a 3-races package instead if I was you (unless today is your birthday.)
Requirements
Junior: at least 48″ (121.9 cm) tall.
Adult: at least 58″ (147.3 cm) tall.
No mixed Adult and Junior races.
Let's take a quick look at K1 speed San Diego track!
What do customers say about K1 San Diego?
"If you like racing this speed factory will be a good fit for you. Very large indoor race track with tons of space and plenty to keep you entertained while waiting for your race. Perfect for kids or corporate events. Looked like they have some racing on leagues too. Good times and worth checking out." – Jerome Cooper (Google map review.)
"Great environment. We had a long wait since we were walk-ins but the arcade kept my teens busy until their race time. The staff was friendly and helpful. My son's friend bought him the racing gloves as a bday present. After the race, they sat down to relax and wait for the next race. My son walked away without his bag. After helping us look for the bag, the manager replaced the gloves at no cost to us. My boys can't wait to go back" – Brenda Giebe (Google map review.)
Some complaints you need to consider
For the most part, people seem to enjoy their experience. However, there are some complaints you may want to consider before going.
Food – this is apparently not a restaurant, so do not expect much from them. You can consider bringing your own food.
Waiting – if you want to avoid the wait, (especially at weekends) arrive at least 30 minutes early. They will give you a wristband and you can wait in the lounge area until they call your race group.
Track – this is a track for electric karts and it's not gonna be very long. A few customers also do not like the track's surface as it's too bumpy.
---
Speed Circuit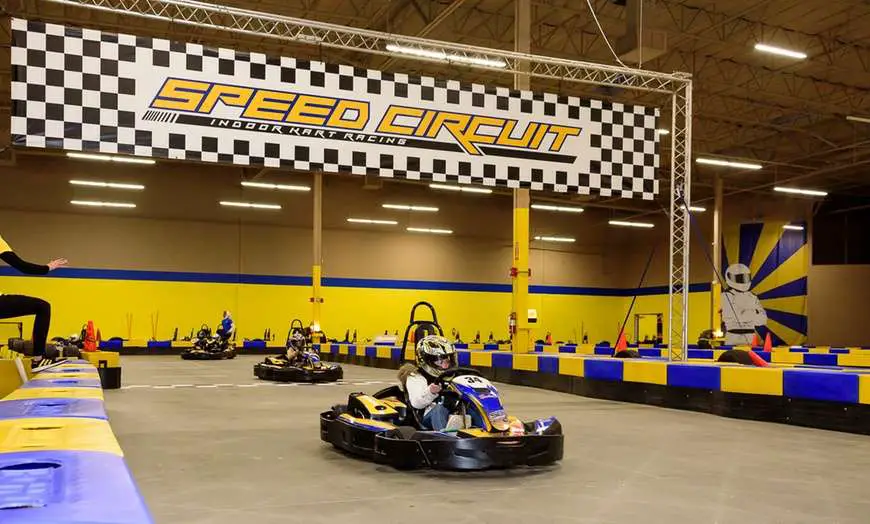 Speed circuit is an indoor go-karting track located in south Chula Vista. It's a great place for those who want to experience racing in a safe and controlled environment. The track offers a great racing experience for karting beginners.
Their go-kart is gasoline-powered and can reach to 35mph, which is a bit slower than K1 Speed's, but plenty fast for indoor go-karting.
One good thing about non-electric engines is that they are less likely to malfunction, which is a common problem with electric go-karts. In addition, Gas go-karts are easier to control than electric ones because they have a better throttle response.
What does Speed Circuit have besides go-kart?
In addition to their go-karting track, they also have a thrill park, which includes all kinds of fun activities for your friends and family: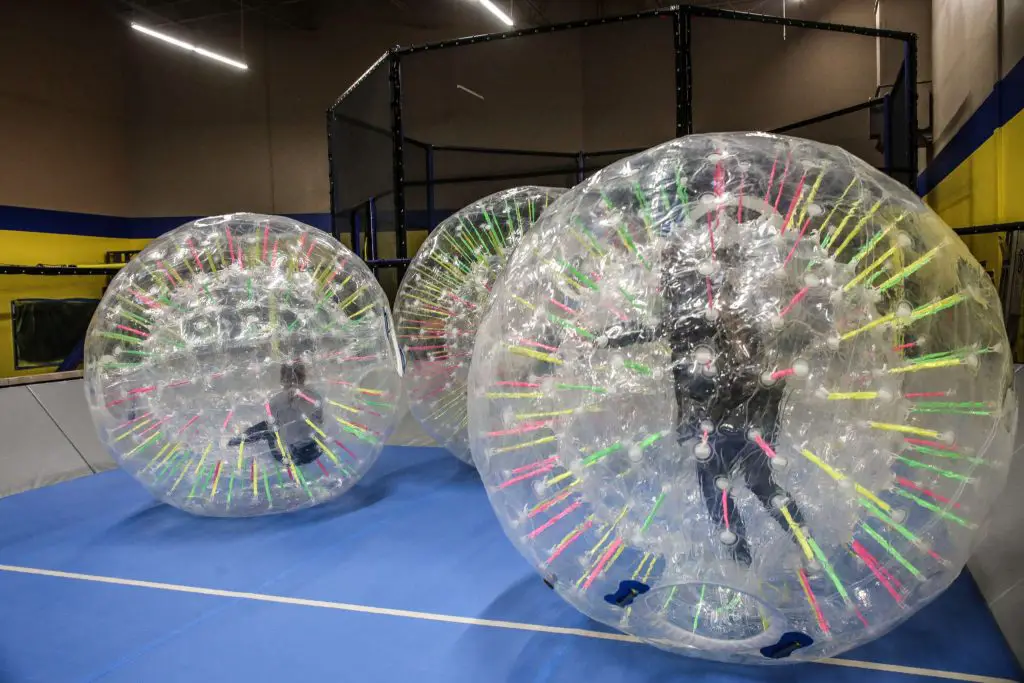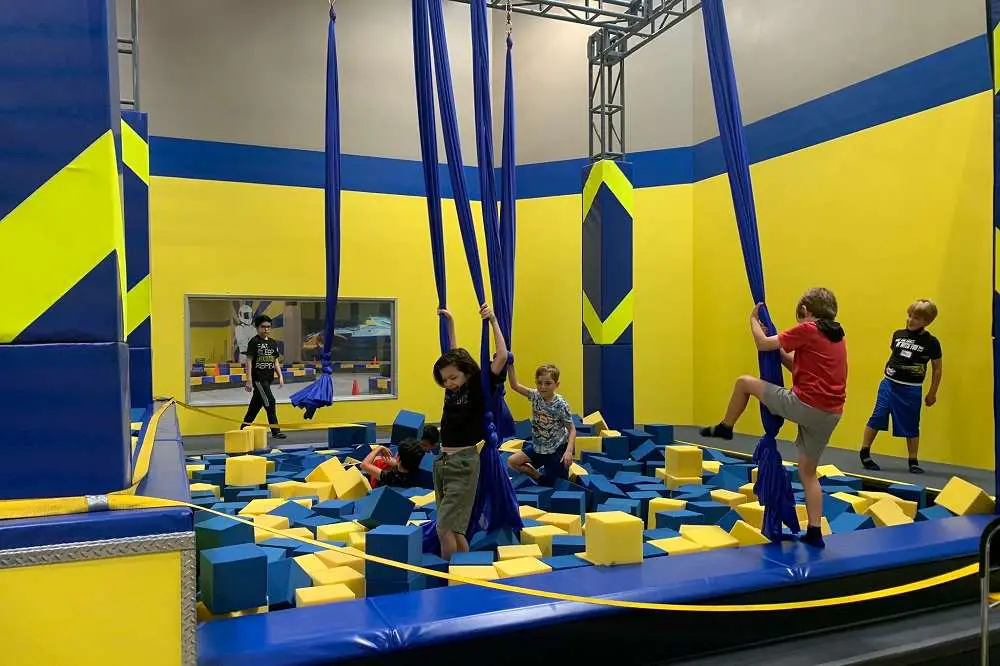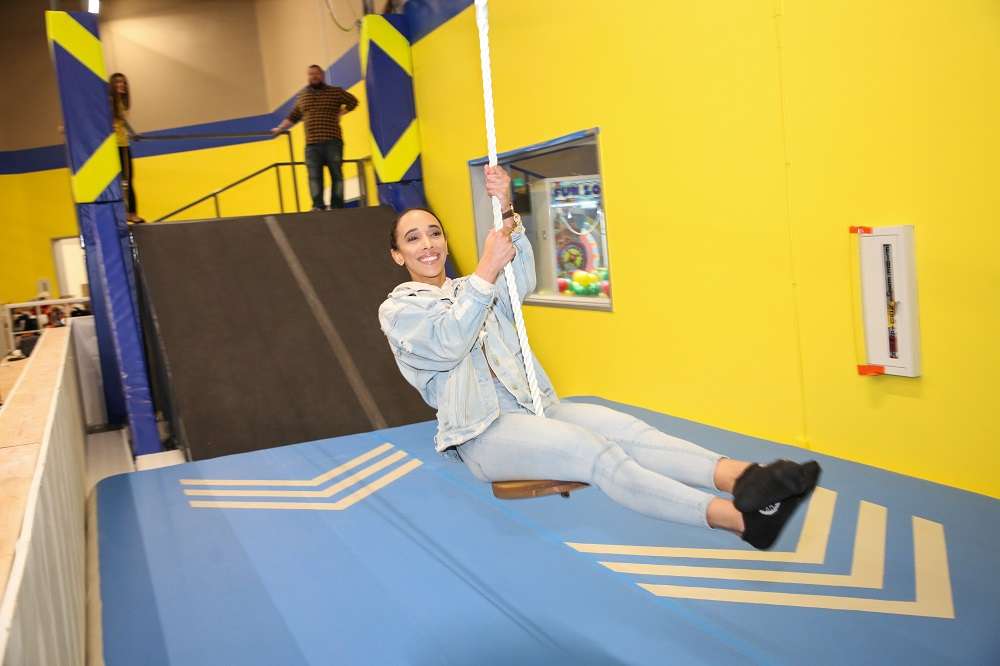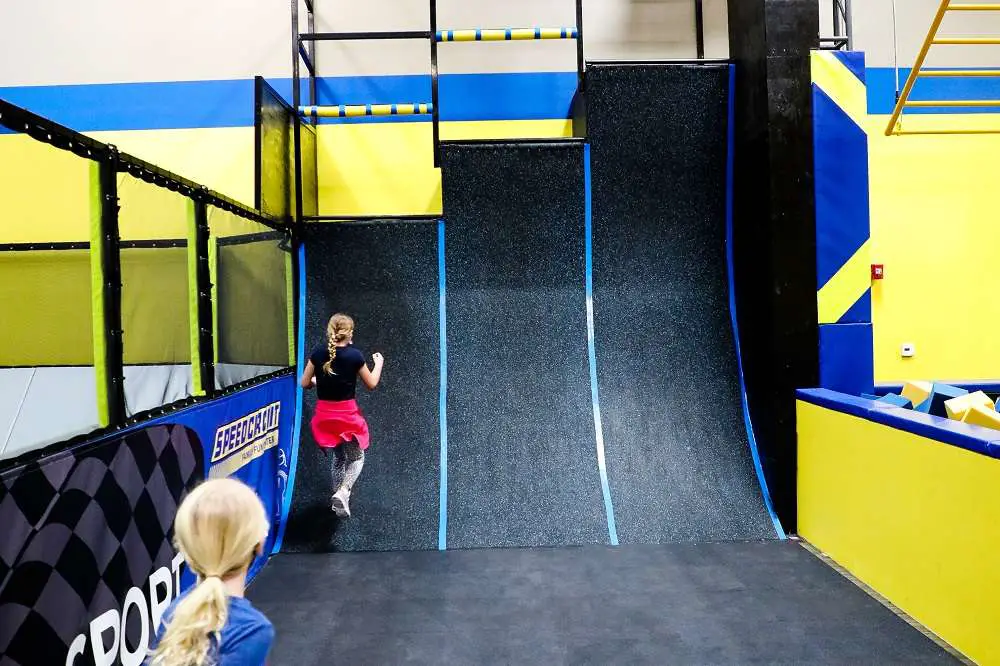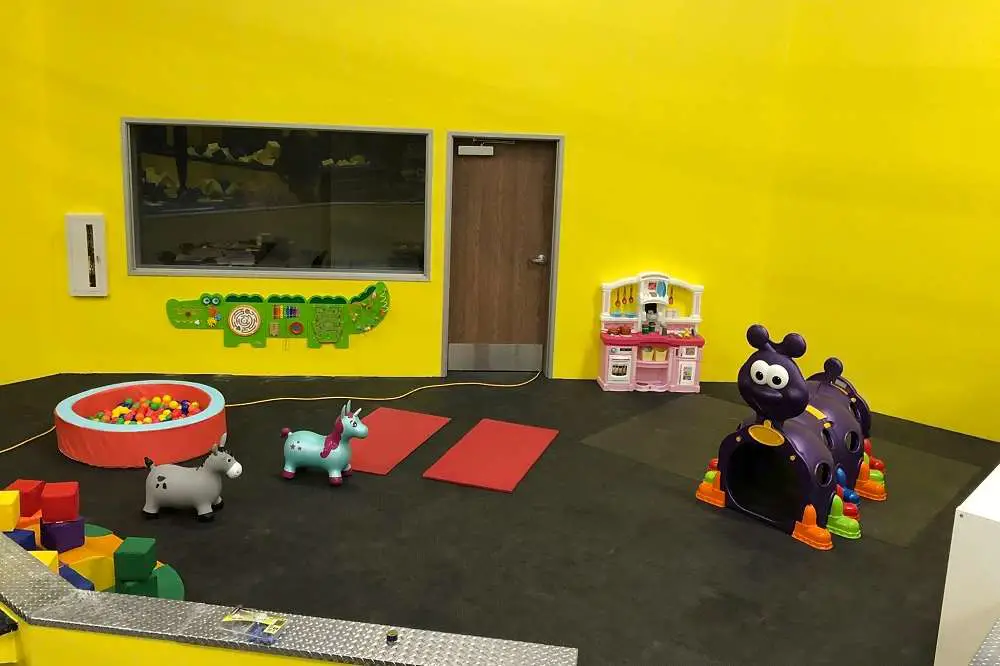 Which package should you choose?
First, if you've never been here before, you have to buy a $7 annual license. This will allow you to use their helmet for free and other benefits such as:
1 free headshock
Online racing history
Personal lap time reports
Next, the basic racing package:
$20/1 race
$35/2 races
$48/3 races
$125/10 races
Note: Each race lasts about 9 minutes. The above race package is only for 1 driver. You can't buy 10 races and split it with your friends.
They also offer bronze, silver, and gold packages. You do not want to buy those if you are only looking for karting.
There are also 2 more packages – Family 4 pack and solo racer.
The family 4 pack ($129) is designed for 4 people, including:
4 annual license
4 2-Race Packages (8 races in total)
If you're planning a family trip and want to save money, I highly recommend purchasing the group combo. It's much less expensive than purchasing the standard race package.
The final package is the solo racer ($48). If you want to practice your driving skills or just want to drive by yourself, this package is for you. The solo racer package includes:
Requirements
Adult Karts: at least 60" tall
Jr Karts: at least 48″ tall
Passengers under 42″ must be with an adult driver.
Closed-toe shoes are a must
Let's take a quick look at the Speed Circuit track! 
What do customers say about Speed Circuit?
"We took our 14 and 12-year-old grandsons. They loved it! The 12-year-old decided to not race and I was glad. I didn't realize the speeds (35 mph max) the great racers could get up to. A young first-timer would have been intimidated. But he loved the other activities there. The 14-year-old had the time of his life even if it was his first race. The staff is very helpful and friendly." – Marcia Leake (Google map review).
"The little one wanted to try it and so I looked for the closest one. This had a great rating and good value of pricing so why not?
Going in, the receptionists were welcoming and inviting. Thankfully, not as much traffic at the time as it was later in the evening. They explained how the races worked and their different race packs. Waivers were also easy to sign and quick.
The guy workers watching the races were knowledgeable and educating. They explained to the kids what to do if an accident happened and safely explained the procedures. Afterward, had the kids play in their mini arcade which was a fun little activity. Overall, I would recommend this fun place. Thinking about planning the next birthday party as I'm sure everyone would love it!" – Rose Jacobs (Google map review).
Some complaints you need to consider
A few arcade games didn't work – in this case, you should contact the staff immediately. They may even give you a refund for that!
Smell – those go-karts are gas-powered and they do have a little bit of fuel fumes. If you're sensitive to the smell, this may not be the best activity for you.
---
Conclusion
If you're looking for a thrilling experience, look no further than the best go-kart tracks in San Diego. With twists and turns around every bend, these tracks will have you feeling the adrenaline rush of racing like never before. So what are you waiting for? Grab your friends and head to one of these top spots today!
Related articles