Last Updated on August 29, 2023 by Pittalks
If you're a new NASCAR fan, then you're probably wondering how long the races are.
The answer depends on the track and the race, but typically they last between 2.5 and 4 hours. Of course, there's a lot of action packed into that time period, so you're never bored!
This article will give you a quick rundown of what factors determine the a NASCAR race's length, and why some races last up to 8 hours long.
Let's get started!
---
Nowadays NASCAR races last around 2.5 and 4 hours
Nowadays, the average time of a standard NASCAR race is between 2.5 and 4 hours. However, there are also other races that last for much longer than that.
One of the longest NASCAR races was the 1952 Southern 500 at Darlington, which lasted for six hours and forty-two minutes. The reason behind this was the rain and there were 7 yellow flags for 40 laps.
Compared to F1, NASCAR races last much longer. A standard F1 race only lasts about 90 minutes and must be no more than 2 hours. This is because:
NASCAR races are longer in length
There are more yellow flags in NASCAR races
---
Why are NASCAR races so long?
To understand why NASCAR races have to be this long, you first need to know that NASCAR is not all about the fastest car. It's about pit strategies and drivers who can remain consistent throughout the whole race.
It's a marathon, not a sprint.
By having long races, the sport allows pit stop strategies to play a much more significant role. Human factors are extremely important in NASCAR since one single small mistake or unlucky moment can change the entire outcome of a race. Long races make sure the games are more unpredictable.
Another reason why a NASCAR race can be this long is the speed. It's sure fast, but compared to F1, it's still a lot slower. Faster speed means stronger G-force, which causes lots of stress on drivers' necks. This makes it harder for him to focus on the road or even lose consciousness.
NASCAR drivers usually feel 3 G's while cornering, which is bearable for quite a long time. F1 drivers, on the other hand, experience up to 5 G's. That's why NASCAR races can go on for so long, but F1 can't last longer than 2 hours.
Then there's the unpredictability of cautions, which we'll dive deeper into shortly! These pause the race and bunch up the cars after incidents. They can greatly extend the duration of a race, adding an extra layer of suspense for both drivers and fans.
And let's not forget about weather conditions! Rain can delay or even postpone a race, while different temperatures can affect car performance and driver stamina. All these elements come together to create an event that tests both man and machine to their limits!
So next time you're settling in for a long NASCAR race, remember: there's so much more to it than just cars going around in circles. It's a complex blend of strategy, skill, endurance and sheer unpredictability that makes NASCAR racing such an enduring and exciting spectacle!
How many laps is a NASCAR race?
The number of laps can vary widely depending on a number of factors, but a typical NASCAR race is from 400 to 500 miles long. With each lap being 1-2 miles in length, there are usually 200-400 laps throughout the whole race.
Does the total lap count change? If so, why?
For starters, it largely depends on the length of the track. A NASCAR race take place on various tracks across the United States, ranging from the half-mile Martinsville Speedway to the 2.66-mile Talladega Superspeedway. Therefore, a race that is 500 miles at Talladega would be 188 laps, while at Martinsville it would be a whopping 1000 laps!
In addition to the track length, the type of race also plays a role in determining the number of laps. For instance, in what's known as a "Sprint" race, drivers only do about 160-400 laps. On the other hand, in an "Endurance" race, they can do around 500-600 laps.
Otherwise, NASCAR has introduced stage racing where races are broken down into three stages. This feature further adds to the variability in lap counts as each stage has a specific number of laps.
And then, weather conditions! Bad weather can cause races to be shortened, leading to fewer laps.
So, while there's no set number of laps for all NASCAR races, one thing remains constant: the exhilarating suspense and heart-racing excitement that comes with every lap! Whether it's 188 laps at Talladega or 1000 at Martinsville, each lap is filled with unyielding action and unpredictable outcomes that keep us on the edge of our seats!
---
There are so many yellow (caution) flags in NASCAR, causing races to last longer.
In comparison to F1, NASCAR has a lot more crashes. Of course, both of the sports' rules don't allow drivers to hit each other on purpose. But in NASCAR, these rules are not that strictly enforced. Drivers hardly get a penalty for bumping others.
Having more accidents means more yellow flags so that there's enough time to clean up the track. This keeps a NASCAR race even longer and allows drivers to pit more often.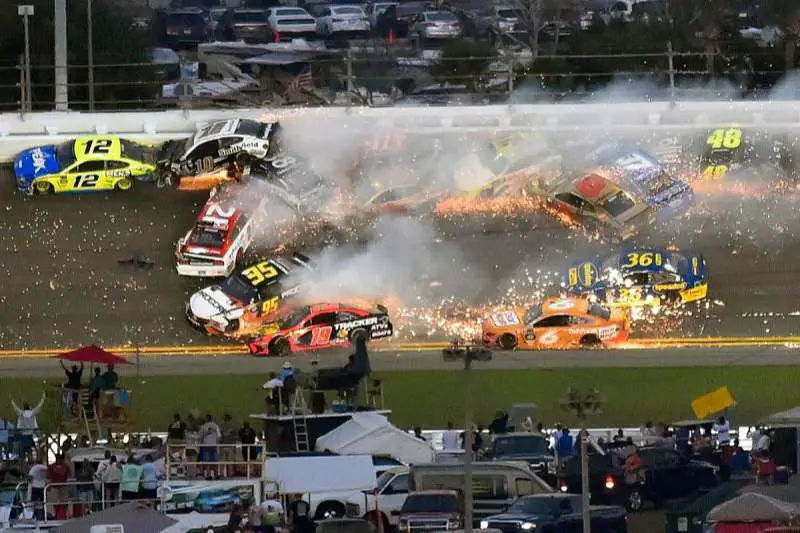 According to NASCAR statistical data, short tracks have more accidents than intermediate and superspeedway. For example, in 2016, Spring Bristol (short track) had 4.87 accidents per race, while Dover (intermediate) had only 1.75 accidents per race.
The delay caused by many accidents explains why some short tracks have shorter racing distances (let's say 50% shorter) but their racing time is just 30-40% less.
---
List of NASCAR races, their total length, and average race time
| Cup race | Track | Total Length (miles) | Number of laps | Average race time |
| --- | --- | --- | --- | --- |
| Folds of Honor QuikTrip 500  | Atlanta Motor Speedway | 500 | 325 | 3h38m |
| Quaker State 400 | Atlanta Motor Speedway | 400 | 260 | 2h50m  |
| Food City Dirt Race | Bristol Motor Speedway | 266 | 500 | 3h09m  |
| Bass Pro Shops NRA Night Race | Bristol Motor Speedway | 266 | 500 | 2h56m |
| Coca-Cola 600 | Charlotte Motor Speedway | 400 | 600 | 4h21m |
| Bank of America Roval 400 | Charlotte Motor Speedway | 501  | 334 | 3h38m |
| Texas Grand Prix | Circuit of the Americas | 185  | 54 | 3h07m |
| Rebel 400 | Darlington Raceway | 400 | 293 | 3h15m |
| Southern 500 | Darlington Raceway | 501 | 367 | 3h56m |
| Bluegreen Vacations Duel | Daytona International Speedway | 150 | 60 | 0h52m |
| Daytona 500 | Daytona International Speedway | 500 | 200 | 3h22m |
| Coke Zero Sugar 400 | Daytona International Speedway | 160 | 400 | 2h44m |
| Drydene 311 | Dover Motor Speedway | 400 | 400 | 3h20m |
| Dixie Vodka 400 | Homestead–Miami Speedway | 400 | 267 | 3h08m |
| Verizon 200 | Indianapolis Motor Speedway (Road Course) | 231 | 95 | 1h27m |
| Toyota/Save Mart 350 | Sonoma Raceway | 219 | 110 | 2h51m |
| Ally 400 | Nashville Superspeedway | 400 | 300 | 3h30m |
| NASCAR All-Star Race | Texas Motor Speedway | 75 | 50 | 0h52m |
| Autotrader EchoPark Automotive 500 | Texas Motor Speedway | 501 | 334 | 3h33m |
| FireKeepers Casino 400 | Michigan International Speedway | 400 | 200 | 2h46m |
| Ruoff Mortgage 500 | Phoenix Raceway | 312 | 312 | 3h01m |
| Season Finale 500 | Phoenix Raceway | 312 | 312 | 2h58m |
| Buschy McBusch Race 400 | Kansas Speedway | 400 | 267 | 3h04m |
| Hollywood Casino 400 | Kansas Speedway | 400 | 267 | 3h05m |
| Kwik Trip 250 | Road America | 250 | 62 | 2h54m |
| Toyota Owners 400 | Richmond Raceway | 300 | 400 | 3h09m |
| Federated Auto Parts 400 | Richmond Raceway | 300 | 400 | 3h04m |
---
The first NASCAR Cup Race (1949) lasted for 2.5 hours
The first NASCAR Cup Race occurred on June 19, 1949, at the Charlotte Speedway in North Carolina. The race itself lasted for 2 and a half hours over a distance of 150 miles (200 laps). The top speed recorded during this race was 68 mph (109 km/h).
More than 10,000 spectators filled in the stands to watch 33 drivers race for a total prize of $5,000. At that time, a 150-mile race track was still considered to be quite long, which makes sense as only 11 cars were able to cross the finish line. The rest of them didn't due to crashes and overheating problems.
Red Byron (who finished third on that first race) became the first NASCAR Cup Series champion, with the final point standings as follow:
Red Byron: 842.5
Lee Petty: 725
Bob Flock: 704
---
The longest NASCAR race – Coca-Cola 600
Coca-Cola 600, the longest NASCAR race (in terms of distance) held at Charlotte Motor Speedway in Concord, North Carolina, is 600-mile (970 km) long. It takes around 4 and a half hours to complete.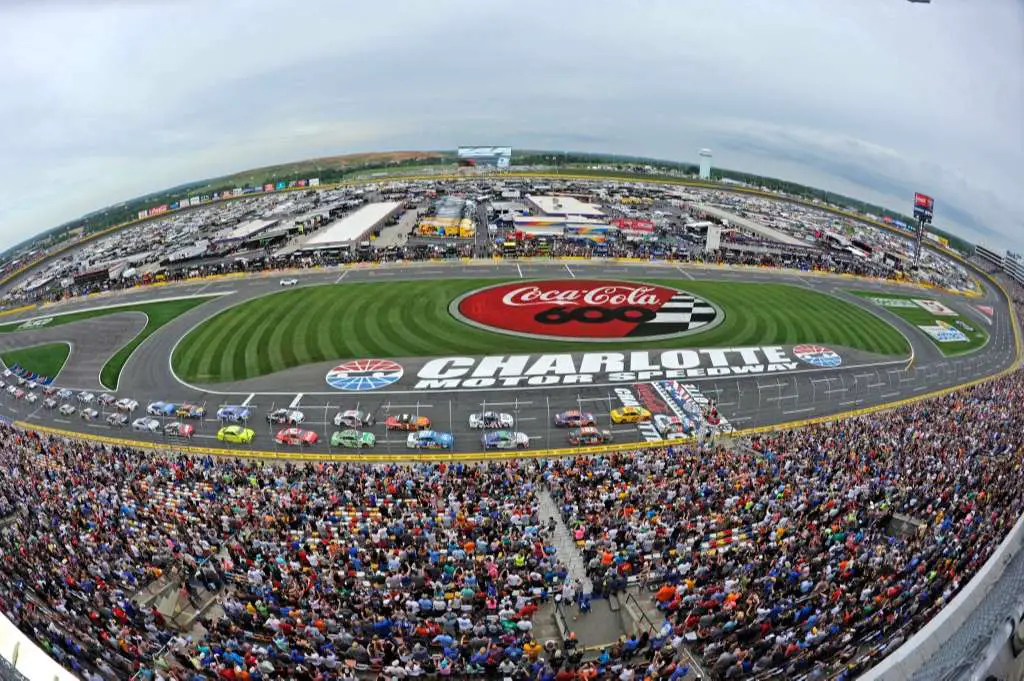 ---
Rolex 24 At Daytona – A race lasts for 24 hours straight
The Rolex 24 At Daytona, or the 24 Hours of Daytona, held at the Daytona International Speedway is a 24-hour endurance race that takes 24 hours to complete.
Even though it's not a NASCAR race, some NASCAR drivers do take part in it occasionally.
When you imagine drivers sitting on their cars for 24 hours straight, you must wonder how they go number 1 or even number 2, right? Read the below article to find out.

Secrets to win in NASCAR races: Peeing strategies
References:
Related articles
It's not as easy as it sounds, though, as drivers are often battling G-forces that can reach up to 3Gs. For example, if a driver weighs 200 pounds, they would feel like they're carrying 600 pounds on their body. So while racing and having to relieve yourself may not be the easiest thing in the world…. Read more