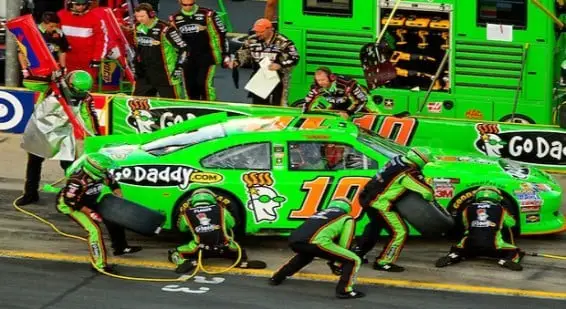 You can always tell the changes on pit road because all you have to do is look. In an effort to improve pit stops, it appears SHR has moved around more than a few guys between their teams. This weekend at Richmond there were different faces on different teams . So let's start with the easy stuff: The #4 and #41 looked to be the same as at Daytona. Both those teams have been top teams for years and we didn't see any changes as of Richmond. Now the fun stuff.
The #10 car of Danica Patrick looked to have a different front carrier, rear changer, and rear carrier. They moved rear carrier Matt Holzbaur to the front and added rear changer Jonathon Sherman and rear carrier Jeremy Howard. Both Sherman and Howard came from the #38 team who is pit supported by SHR. The #14 of Tony Stewart got a new front changer in Ryan Mulder. Mulder was moved from the rear of the #10 to the front of the #14.
The #38 team, who like we said earlier is supported by SHR pit crew members, got a new front changer, front carrier, rear changer and rear carrier. Bryan Jacobsen is now on the fronts with Jeff Shoaf. Anchoring the rears will now be Chris Jackson and Tyler Bullard.
From what we can tell, no new pit crew members were hired or fired, just a restructuring of crewmen. Sometimes it takes a shake up to get the best crews together and it looks like SHR is trying to find the best combinations for its teams.
Good luck to everyone at SHR and all crewmen this weekend in Talladega
Related articles
How much horsepower does an F1 car have?

When it comes to F1 race cars, you may think that it's all about speed.

However, there are many regulations to ensure that f1 car manufacturers put their design beyond the limit and satisfy these purposes….Read more