Last Updated on March 9, 2022 by Pittalks
Do you love the thrill of speeding around a track at top speeds? If so, then you'll want to check out one of Orlando's go-kart tracks!
There are plenty of options for drivers of all skill levels. Therefore, whether you're a beginner or an experienced driver, there's sure to be a track that meets your needs.
Here are five of the best go-kart tracks in Orlando.
---
1. Orlando Kart Center
This outdoor track is a favorite for racing enthusiasts. It features a challenging course with hairpin turns and fast straightaways.
Whether you are a kart owner or not, the Orlando Kart Center offers a racing calendar for both kart owners and non-kart owners.
The track is open every day except Monday and Tuesday, and you can rent a kart to race or just take a spin around the track (usually, the morning is for kart owners; the afternoon is for kart renting.)
If you want to get better at this sport, you can consider their racing classes for different levels.
You can take a look at this video to see how amazing this kart track is:
However, some customers complain about the kart renting price being a little expensive – $29/race (about 10 minutes.) But if you compare this number to other places on this list, there is no significant gap.
Address: 10724 Cosmonaut Blvd, Orlando, FL 32824
Customer review:
"Orlando Kart Center is likely one of the best places to Go Kart in the entire country, and undoubtedly the best in the area. The staff are extremely helpful, the Karts are fast and the experience truly feels like you are in a race car. Get away from the parks/golf/other attractions and get in a go kart for a bit!" – Andrew Turner (Google map review)
---
2. K1 Speed
K1 Speed is a famous brand in the US for indoor go-kart racing. They have 55 locations in total, and Orlando is one of them.
All of K1 Speed's go-karts are entirely electric. This implies they have better acceleration (can reach up to 45mph) and no noxious fumes, as opposed to gasoline engines. So if you are a big fan of eco-friendly options or just enjoy a speedy ride, K1 Speed is the place for you!
Requirement:  
Junior racers – at least 48" (4')
Adult – at least 58" (4'10")
Arrive & Drive races (no reservation) are 12 laps at most K1 Speed locations. Reservation is highly recommended on weekends or if your group is more than 8 people.
Price: $25-$60/person
Address: 5228 Vanguard St, Orlando, FL 32819
Customer review:
"Fast and fun! This is a 12 lap track where your car and driving lap stats are tracked. Competing against friends and family can become super competitive while you fight for 1st place! This is an indoor track with electric karts that can reach up to 45 mph. Pricey activity. $25 for one race which lasts around 6-10 minutes depending on your lap times. Probably worth getting an annual pass if you will go a couple times a year." – Christopher McKay David (Google map review).
---
3. Andretti Indoor Karting & Games Orlando
Andretti is another famous place for indoor electric karting. They have locations in Georgia, Texas, and of course, Orlando.
This is a great option for a family trip. Besides go-karts, they also offer many different types of games (arcade, laser tag, etc.), so everyone in your family can never get bored.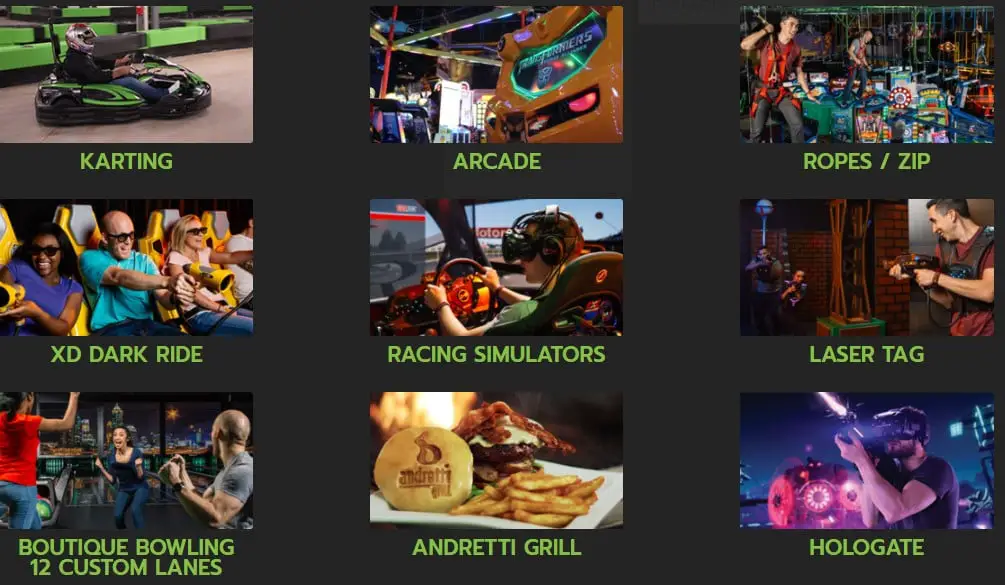 Price: $25/person/race
Address: 9299 Universal Blvd, Orlando, FL 32819
Customer review:
"Andretti Karting is nice fun family atmosphere with lots of games and racing! The karts are electric but decent speed! They have a very nice onsite restaurant and a nice sky lounge by the track. There is a kids track and a beginners track as well as a track for more advanced!" – Doug Stroud (Google map review).
---
3. Kissimmee Go-Karts
Kissimmee Go-Karts is probably the most affordable place on this list – only $25/11 laps (about 30 minutes driving).
That's being said, this place is perfectly suitable for a family trip, not kart racing enthusiasts. So don't expect too much from the track or the karts.
Beside go-karts, they also offer more than 50 games and a pool full of real Florida alligator.
Price:
$5/1 lap
$24/6 laps
$25/11 laps
Address: 4708 W Irlo Bronson Memorial Hwy, Kissimmee, FL 34746
Let's take a quick look at the Kissimmee Go-Karts!
Customer review:
"10 laps for 2 adults plus gator food. We upgraded out go-carts for the faster ones for an additional $10. Took about 30 minutes to run around the track 10 laps! The track is pretty long. The place looks run down BUT worth the price! Got to feed the young gators afterwords." – Nicole Marie (Google map review)
---
4. Dezerland Park Orlando
Dezerland Park Orlando is another great place to race against your friends. This park has the longest go kart track in Florida. Their go-karts are all electric. Compared to other electric go-kart at K1 speed, they are about the same speed and acceleration.
The go-karting section often get quite crowded, so you may have to wait about couples of minutes at the weekend.
Family-friendly activities, such as miniature golf, pinball, electric go-carts, and a fantastic automobile museum are what you can find in this fantastic park. In the near future, bumper cars and more restaurants are going to be opened.
Price:
Pro Race (7m) – $24.95
Cadet Race (6m) – $17.95
Go-kart requirements:
Pro track: over 54″
Cadet track: over 48″.
Address: 5250 International Dr, Orlando, FL 32819, United States
Customer review:
"My son loves the go karts. This place has a great potential to grow. The have bowling, arcades, mini golf and the go karts and a car museum. Always seems understaffed and go karts always run late" – Christine Hohf (Google map review)
---
5. Fun Spot America Theme Parks
If you are looking for a place that offers more than just go-karting, Fun Spot America Theme Parks is the perfect place for you and your family.
This park has up to 4 different go-kart tracks that offer different levels of difficulty. One little tip, the unlimited pass is quite pricey, but you can choose to pay per ride.
Another suggestion is to arrive early so that you don't have to wait 20 minutes for a single ride.
Price:
$10/1 ride
$60/1 person – unlimited go-kart ride and other games
Address: 5700 Fun Spot Way, Orlando, FL 32819, United States
Customer review:
"We love Go karts (they are working on gas just like real car) and they had 4 different tracks plus bunch a rides and 2 roller coasters. Best part you can go unlimited times. Line moves fast and waiting is juat couple minutes. Some of them waiting in just a minute. Ticket are $59.9 for fun and $69.9 for mega fun including extra ride. They also have $10 ticket for a single ride. The alligator zoo is $6 + tax if you do not have wrist band. Do not waist money to buy food to feed the alligators. They are not hungry! Food is ok . You can find on what to snack. Just go have fun family night" – Stacey McKenzie (Google map review).
Related articles