Last Updated on September 23, 2023 by Pittalks

If you see smoke coming from your go-kart's clutch, it's important to investigate the cause right away. The most common reason for this (and it's very likely to be your case) is that the clutch is not fully engaging.
So, what is the solution for this? Simple, just imagine you are Lightning Mcqueen and floor the gas pedal.
JK, don't do it. The real (and safer) solution is to just give the engine a little more power so the clutch can get through the engagement stage.
Why? Read on to find out!
---
Your clutch is smoking because there is not enough centrifugal force
Most go-karts use the centrifugal clutch. This type of clutch uses the engine's speed to operate. The way it works is pretty simple: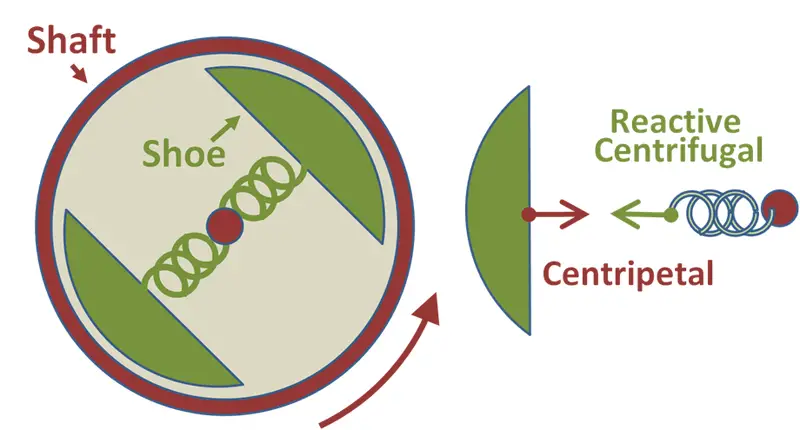 As the engine speed increases, so does the centrifugal force.
When the engine speed reaches a certain RPM (for go-kart engines, this is around 1800-2000 RPM), the centrifugal force is strong enough to push the clutch shoes outward.
This movement connected the brake shoes to the friction lining, which transmits power from the engine to the wheels.
The problem is that when the RPM is too low, the centrifugal force is not strong enough to engage the clutch shoes. This causes the clutch to slip and overheat, which in turn creates smoke.
There are 3 scenarios that you may have:
You're driving too slowly
The gear ratio is not steep enough
You're driving too slowly and the gear ratio is not steep enough
So, what to do in each case?
---
You're driving too slowly, causing the clutch to smoke
Driving a racing go-kart on your neighborhood streets is not a good idea for many reasons. Not only it's illegal, but you'll never go fast enough and reach its ideal RPM range.
Some go-karts are just meant to be fast, and if you're not going fast enough, their clutch will start smoking. And eventually, you're gonna need a new clutch, or even worse, a new engine!
However, there is a way to solve this problem – replace the clutch's springs.
Elasticity force is the thing that keeps the engine and clutch disengaged while the engine is running at low speeds. The weaker this force is, the easier it is for the clutch to engage.
Therefore, replacing a softer spring will allow the clutch to engage at lower speeds without smoking.
---
The gear ratio is not steep enough
The next reason why your go-kart's clutch is smoking is the gear ratio.
Usually, go-karts use one ratio system. Power from the engine is transmitted through a chain, which goes around a sprocket on the axle.
The typical gear ratio on a go-kart is around 4:1 to 6.5:1. In case you don't know what these numbers mean, they are calculated by dividing the number of teeth on the axle sprocket by the number of teeth on the clutch sprocket.
For example, a 4:1 gear ratio would mean that the engine shaft has to rotate 4 times for the axle to rotate once.
The steeper (higher) the ratio, the better torque, and acceleration the kart will have. However, it will be slower. That's why off-road go-karts often have a higher gear ratio than racing go-karts.
If you feel like your kart is missing some torque and it's smoking, you probably have a gear ratio that's not steep enough.
The solution to this problem is pretty straightforward. The simplest way to increase the gear ratio is replace a bigger axle sprocket. And when I say "bigger", I mean more teeth. Or if your clutch has too many teeth (more than 12), I suggest you replace it with one having from 10 to 12 teeth.
Or you can consider installing a jackshaft. This will also allow you to install the rear axle sprocket anywhere you want it, instead of being restricted by the clutch location. You can watch a video about how to install a jackshaft here:
---
You're using rear tires that are too big
If you think your kart's gear ratio is high enough, your rear tires' diameter may be the problem. Bigger tires offer better speed, but they require more torque to rotate. This will eventually burn your clutch.
You don't want to use small tires? Let me tell you what you will get when you do:
The clutch is less likely to smoke
Better torque and acceleration
Better handling and traction
---
You forget to lubricate the clutch
If you don't lube your go-kart's clutch regularly, it will also smoke. This is because the lack of lubrication will cause excessive friction, and eventually, the clutch will overheat and start smoking.
To avoid this, make sure you oil the clutch every 2 hours of use. Any machine oil will do, but I suggest using 10w30.
Do: Oil the internal bushing near the sprocket teeth, next to the snap ring.
Don't: Put oil on the inside of the clutch! The holes on the drum are there for cooling down the clutch, not for adding oil! If you do, you will decrease friction, and your clutch will start slipping.
---
You're too heavy for the engine to handle or you're driving on hilly terrain
If this is the case, go back to the gear ratio or tires diameter section.
Maybe you're using a too-low gear ratio and too-big rear tires.
---
The clutch is glazed
When the clutch is glazed, it means that there's a build-up of material on the friction surfaces (due to excessive heat). This will cause slippage and eventually smoking.
Bad news, for whatever reasons your clutch is smoking, if it's smoking right now, there is a chance that it has been glazed during the process.
The best way to fix this is to replace the clutch. Good news, they are inexpensive, and you can buy them online easily.
If you are using a clutch for the predator engine, check this video out to learn how to install a new clutch.
You may need it: Crankshaft bolt size for Predator engine
---
How NOT to handle the smoke?
You've just turned off your engine and the smoke is coming out.
You freak out and then give it a little bit of water with the hope of cooling it off.
Just do not ever do it! You will ruin the engine and the clutch.
Stay calm, worst-case scenario, you spend 30 bucks buying a new clutch.
---
Conclusion
Now you know what to do when your go-kart clutch smokes. It's not the end of the world, but it's still a good idea to take action to prevent it from happening again.
To sum it up, there are 4 ways that you can stop your go-kart clutch from smoking:
Drive faster
Use a higher gear ratio (usually by increasing axle sprocket teeth)
Use tires with a smaller diameter
Change a new clutch
Or maybe you can consider the fifth solution, which is the most difficult, losing some weight.
Hah, hope you don't get offended by my joke. If you have any tips regarding this smoking situation, don't hestitate to share with us in the comment section below.
References: